Paris Design Week | Spring 2023
Design
Design Trends
Furniture
Interiors
It's that time of year again, design season when designers and suppliers present their exciting ideas and trends for the year to come. Every January and September Paris's design spirit springs to life.  I love going to as many design showrooms as possible to source the latest collections and directions that will inspire schemes for our projects in the year to come. It is also a wonderful place to catch up with the international design community.It truly is the ultimate interior designer's treasure hunt, with Paris Deco Off showcasing the interior world's latest ideas in town and the vast Maison et Objet at Villepinte full of hall after hall of product. Our job as designers is the filtering out those items that will come to life in our latest schemes. So with that in mind here are some of our design ideas for the year to come
Pattern on Upholstery
This year there was a big emphasis on more is more. Patterns on pattern, tassels, and trims, alongside the evolution of texture. Beautiful colours, statement upholstery and tile with terrazzo are some of the many design trends I came across at this year's fair. Nobilis a wonderful brand we use a lot led the charge featuring bold pattern on large pieces, something we will be doing in some upcoming projects.
Colours of the Year
I fell in love with new 'deco' vibes at Misia Fabrics. They launched a wonderful new set of art deco inspired fabrics, in the colours of the season, off white, umber, ochre, teal, amber and emerald. Feature Pieces that are Practical
Out at the show I found Objet De Curiosite showcased a wonderful mix of practical yet bold design. We use this company when we want to add wow to a standard piece. I always enjoy a visit to their stand, discovering new and interesting display items, furniture and lighting. I loved this standing lamp/side table arrangement that would work well in the corner of a room or tight space.
Door Furniture
Cabinet knobs and handles are often an afterthought but can really add serious wow to a new piece or instantly transform an old classic. I love Objet Insolite for their range of shapes, styles and metal finishes. The veritable cherry on the cake of the furniture world.
Immersive Interiors
The Laura Gonzalez showroom was recommended and it did not disappoint. A wonderful immersive showroom experience and definitely worth a visit. Highlighting the increasing popularity of upholstered walls, sculptural lighting and feature pieces. The retro vibe also felt very current, and most of all the comfort created was instantly appealing.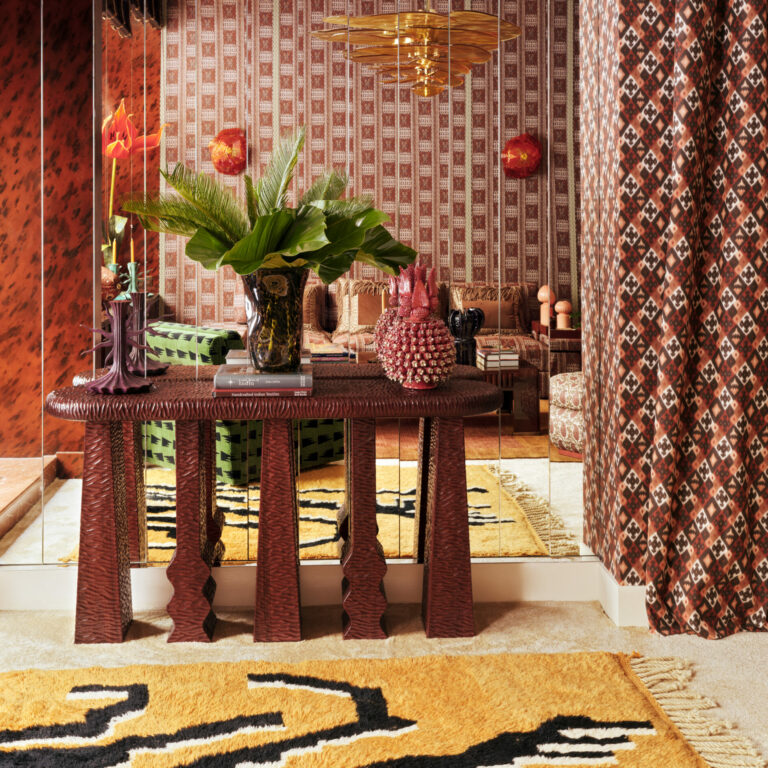 New Showrooms
Schumacher opened its beautiful new showroom. I really enjoyed catching up with the team and seeing the beautiful range of fabrics, wall coverings and curated home items…
Honestly, there was so much to see and do, but I hope the quick edit above gives you lots of food for thought, and some design that elevates!
Sara